Senior Minister
Max Rogland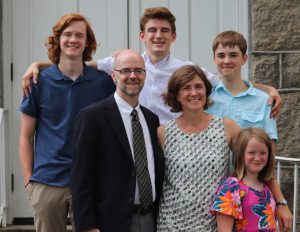 Our senior minister is Rev. Dr. Max Rogland, a native of Tacoma, Washington. Dr. Rogland is a graduate of the University of Washington (B.A., B.Mus.), Covenant Theological Seminary (M.Div.), and the University of Leiden (Ph.D.). He served Rose Hill Presbyterian as Interim Pastor from the spring of 2012 until August 2013, when he was elected by the congregation to continue on as her permanent pastor. Dr. Rogland is ordained in the Presbyterian Church in America and previously served as the pastor of Trinity Presbyterian Church in Rochester, Minnesota. In 2007 he accepted a call as Professor of Old Testament at Erskine Theological Seminary's campus in Columbia, where he taught until being called by Rose Hill to full time ministry at the church. He is married to Lara, and they have four children.
Music Director
Kaaren Miller
Our music director, Kaaren Miller, provides accompaniment for our worship services and conducts our choir. Kaaren began studying the piano when she was seven years old and performing at eight. Her joy in playing music led her to complete an undergraduate degree in Piano Performance from Furman University and a Master's degree from the University of South Carolina School of Music, with additional studies at the Brevard Music Festival and in masterclasses with a number of premier artists.
To get in touch with Kaaren, please contact the church office.